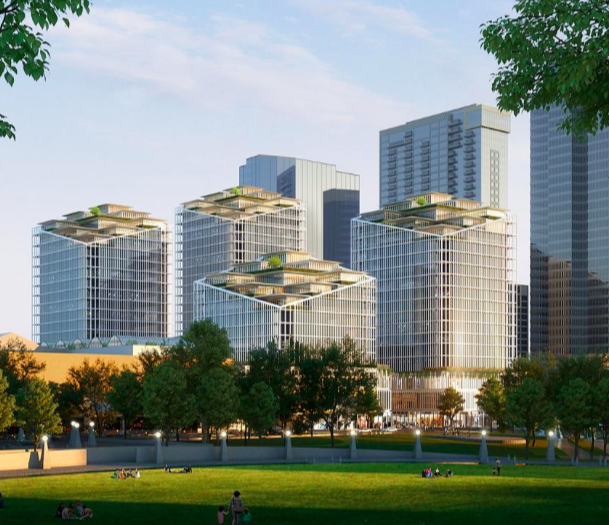 Kemper Development Co. has submitted plans for a 1.8 million-square-foot mixed use development in what is now 401 Bellevue Way NE, just across the street from Bellevue Downtown Park. Dubbed "The Bellevue," this four-tower complex proposal includes 234 residential units, a 157-room hotel, 266,000 square feet of retail, a public plaza, and six levels of underground parking for 1,600+ vehicles.
The site sits on a total of 3.6 acres and is currently now the parking area in front of the Macy's store (the southeast corner of Bellevue Square mall). According to the Puget Sound Business Journal, The Bellevue is an addition to Kemper's 5.5 million-square-foot Bellevue Collection mixed-use development on Bellevue Way.
To get into specifics, the four towers would range up to 25 stories varying between 169 feet and 308 feet high. Features include dynamic, fluid, and well-articulated rooflines topped with gardens. Another feature includes a central glass atrium with commercial and restaurant space.
The Bellevue would be approximately half of a mile from the future light rail station that is expected to open in 2023.
To read the full Puget Sound Business Journal article, click here.